Bookshop & Community: A Portrait of the Bookseller as a Young Man
Left image
Right image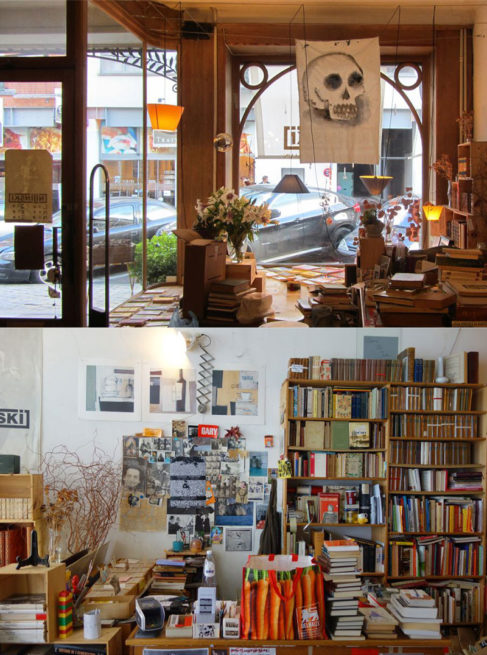 Text
A Portrait of the Bookseller as a Young Man
Rua Breathnach
I have come to interview the owner of Librairie Nijinski in Brussels, Louis Castel. I find him sitting at the counter behind several leaning towers of books. With a pencil and eraser, he is cataloguing his merchandise, noting down the price and the title of each book in a ledger. Hovering on the threshold, I break the silence: 'Are you open?' Louis looks up. I feel like an insomniac asking his bedfellow if he is still awake. 'Yes,' he says, 'it seems we still are.'
Librairie Nijinski is located between the bohemian neighbourhood of St. Gilles and the bourgeois glamour of Avenue Louise, and sells a hand-picked selection of art books, history, philosophy, novels and poetry in several languages. There are comfortable chairs to sit in, and a leafy back yard where you can read, drink a coffee, smoke a cigarette, and hide from your creditors.
The bookstore is a sanctuary away from the hustle-bustle of city life. For many writers and artists it is also a kind of second home, where you won't be given any special privileges but where you can at least be yourself. When the mood takes him, Louis puts on an exhibition or hosts a concert, a reading, or a book launch. An evening Bach recital, Japanese butoh dancing, or a punk band in the cellar are a pretext for drawing together the polyglot, eclectic, and curious readership that walks through Nijinski's doors.
It is seven o'clock and the last customer has just left. Louis produces a bottle of manzanilla, two glasses, and a packet of pretzels from under the counter. I take off my coat and bicycle helmet and place them on the pile of cardboard boxes containing used books that clutters up the entrance. I have prepared several questions for the interview, but after launching the first I realise the rest will no longer be needed, that the manzanilla is oiling the cogs nicely. 'How did you end up in the world of books?' I ask.
'In one sense, I grew up in this bookshop,' says Louis. 'Nijinski opened in 1992, when I was a tall, gangly thirteen-year-old. Since I was already an avid reader back then, with minimal pocket money, and Nijinski being the only second-hand bookstore in my neighbourhood, it became my one and only shopping opportunity. I would go there by myself after school and mind my own business, browsing the shelves and picking up books according to their prices and the writers' fame (in my young teenager's mind, at least). I did that for a year or so, until I had exhausted the list writers I knew of a little.
'Suddenly, I had no more names to guide me in my choice, and I turned to the white-haired bookseller, Philippe Panier, who, unknown to me then, was himself a published writer. I asked him if he could recommend any novels in the €5–€10 price range. It was Belgian francs then; 100 or 250 Belgian francs would get you between one and four livres de poche. In this way, Philippe introduced me to Henry Miller, Artaud, Yukio Mishima, Dostoyevsky, T.E. Lawrence, Nikos Kazantzakis, Chekhov, Anaïs Nin, Lawrence Durrell, Hubert Selby Jr., Walt Whitman, Oscar Wilde, Thomas Mann, Jaroslav Hašek, Elsa Morante, and my beloved Curzio Malaparte, writers that he had read and was glad to share with a young novice like myself. The writers I have mentioned are the ones that have stuck in my memory; but there were certainly many others I have forgotten about or just didn't like, I guess. So, I would come by two or three times a month to ask for more advice or to follow up on the reading of my new literary heroes, whom I had come to know thanks to Philippe's patience.
'Now that I'm a bookseller too, I realise how strange it must have been for Philippe to have such a young lad asking and reading so much and with such persistence. I definitely was a weird teenager. (The only other young person I met in the shop with such stamina was actually there trying to steal books). A strange consequence of my connection with Philippe is that my culture générale when it comes to fiction is more rooted in the period from 1920 to 1960 than most people my age. And that to me the word 'book' still means: a worn-out pocket edition from the 1950s with its own very peculiar smell. I don't have much taste for quality binding or shiny covers – it's the content I'm after.
'In the early 2000s, Philippe decided to retire but was reluctant to shut down the bookshop right away. He asked me to help him two days a week. I was a university student by then, I had some spare time, and he knew I loved the shop. So I said yes, fine, I'll come and help you a little. Right from the start, he put me in charge of buying the books, making the selection. Philippe likes to say that he is a 'dyslexic businessman', good for big numbers and planning, but hopeless at the details. We clicked right away and, to his surprise and mine, the job woke me out of my geeky shyness. A few months later I graduated from university and started working at Nijinski full-time.
'I think I just took over because I could. I had no grand plans or ideas. My main goal was to stand my ground. I was 27 at the time, and had been working there for two whole years. And bookshops just have to exist, I suppose. Maybe that's it: reading is fundamentally a pleasure to me, and places that provide that kind of pleasure at an affordable price have to be defended. Nijinski is where I really could try to do that for other potential readers. Keep it affordable, provide good books for as wide an audience as possible, don't explain, don't bore; after all, readers are human beings – they can take care of themselves when surrounded by books. And when someone asks for advice, don't impose – propose. And as for the future, I don't really know. Keep things simple, I guess, and defend them in difficult times. It's a lovely job if one enjoys people, and I'm aware of my luck, even if I know I've worked hard to stay lucky.'